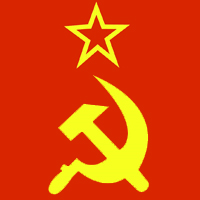 Since Obama came into office, it seems like all we hear from members of the right is that he is leading us to Socialism. And each time I hear it, the first things that pop into my mind are, is that a bad thing, and that's different from now, how? For some reason, socialism is equated to communism, both seen as pure evil, and I think we have the cold war to blame for that.
I think its important to note what communism is. As posted in the Wikipedia article on communism, "Communism is a socioeconomic structure and political ideology that promotes the establishment of an egalitarian, classless, stateless society based on common ownership and control of the means of production and property in general." Of course, the reason the US had so much trouble with the idea of communism is that our economy had become based on the idea of capitalism. We believe that those who can make money make it, and if you can't, too bad; they believed no one should be left behind. But in truth, communism is not socialism. Communism believes that no one should own sources of income, and that it be run communally; socialism advocates that the government should oversee sources of income, and help lead these groups. Communism is politics; it distributes resources and goods to that which needs it. Socialism is economics; it places everyone on equal footing, to succeed or fail based on their own merits.
And this is where I see a large dose of hypocrisy. First of all, Americans need to get it out of our heads that we're in some progressive, socially advanced nation. Regan once referred to America as a "shining city on a hill", probably from John Winthrop, believing that America was a beacon of hope for the world, in terms of our resolve, strength, and ideals; that's no longer the case. If you compare the US to countries like China or Saudi Arabia, I'd argue yes, we are socially advanced. If you compare the US to countries like the UK or Germany, we're very conservative. In my research, I spoke to a number of people from various countries in Europe, and they all agreed to the following: our liberals are like their conservatives. Some people I spoke to said that if their politicians even said "God" in any public statements, they'd never get reelected, if they avoided the incoming impeachments. We can't elect a man who isn't a "true" believer. The idea that we're advanced because we're rich is also a fallacy. America has been holding on to stagnant ideas for decades, enveloped in this idea that we've continued to progress. In fact, America was the start of the fall of the global economy, started by sheer arrogance.
Another dose of hypocrisy goes straight to the members of the right claiming Obama is leading America to socialism. I wonder how many of them supported the first bailout of Wall Street. I wonder how many of them would have supported the bailout if it was their company or a company that financed them. A government bailout is as socialist as it gets. Not to mention all the other programs the government fiances such as welfare, medicare, and unemployment that are social programs. America already has socialist elements, but they are mere shadows of competent programs. America has dipped its feet in the pool of socialism, but doesn't have the nerve to jump in, but is now too comfortable to step out.
In contrast, we see European countries, not founded on principles of freedom, equal rights, and religious independence being the more socially advanced. While Americans complain about "high taxes" and constantly demand cuts, many Europeans have higher taxes then we do, and in exchange, have much better welfare programs, higher literacy rates, and more then a few face lower unemployment rates. They have state funded or mandated medical programs, meaning everyone has access to the basic medical care everyone should have the right to. They have programs so when you lose your job, you aren't wondering if tomorrow you and your family will be on the streets. In effect, the policies give everyone a chance to be someone, and don't fault them for situations beyond their control. Is it your fault if your bank makes some stupid decisions and you lose money? Is it your fault if your company decides to go for profit and randomly cuts you from the line? Is it your fault if your apartment catches on fire because the person living below you decides that lighting a fire indoors is a good idea, and your insurance won't cover it?
America tends to be a very solitary society, while providing this false notion of comradery. We talk all about the American future, and how we need to work together to overcome the world's evil, yet we can't come together as a country to solve what should be important issues like healthcare, homelessness, the energy crisis. I'm not saying they're easy to solve, but they should be at the top of our list. Socialism isn't the enemy… in truth, a lot of American ideals and moralities are socialist in nature. A path to socialism will make our country stronger, if we can control socialist ideas to work for our nation. We'll never be socialists… America is too deep rooted in the idea of personal freedom to be very socialist, but we can finally adhere to the ideas the "Christian" ideals the right always talks about: helping our neighbors, helping the most downtrodden of us, giving everyone a chance. Socialism is the true "no one left behind", the real "everyone's equal". We can truly be the "shining city on the hill"; we can be the beacon for the advancement of the world, socially, culturally, and economically. Though honestly, it'll take more then socialism for that… but that's a discussion for another day.